BREEDING RED BELLY PIRANHA
Breeding piranhas can be compared to some other aquarium fishes. Piranhas are like big tetras, but unlike tetras, they don't scatter their eggs, they are like cichlids in the manner that they build a nest site, usually nothing more than a depression in the ground, and show some amount of parental care. They do guard the eggs, but don't show any interest in the fry once they are free swimming.
Breeding piranhas can be challenging in the home aquarium, but the basics are covered and throw in some luck, they can be very prolific.
I have tried to cover a few basic points in this breeding article to help anyone who is interested in getting these wonderful fish to breed in their home aquarium.
Experienced and knowledgeable members are welcome to add their input to make this a comprehensive article.
Basic requirementsTank
- this is the initial piece of hardware. People have bred their piranhas in tanks as small as maybe 45-55gal and also there are people who have bred their fish in huge tanks. But in my opinion length of at least 4 ft and width of at least 18 inches are best. 15 inch wide tanks are too narrow for these big fish and there will be difficulty to carry out the mating rituals without room to adequately circle the spot.
Fish
-
Sex
-it goes without saying that you will need a male and a female, but problem is that piranhas are not sexually dimorphic and sex can be very difficult to ascertain. Usual indicators (not very reliable) are girth-males tend to be slimmer than females, the male's head may be thicker, and the female's body is generally thicker, when viewed from above. Also I have noticed in the 2 dozen or so piranhas I'm currently keeping is that the colour-males tend to get darker earlier and lose their red more completely when in breeding condition than females do. Most of my males are darker, then the females whether in breeding condition or not.
Number
- any number will do, but to have at least two individuals of opp sexes, its wise to have a group of at least 4-5.
Age and size
- age of more than a 18 months and size above 6-7 inches are indicators that the fish have reached reproducible age and size.
Décor and substrate
- these generally doesn't matter much. anything goes basically..bare bottom to amazon replica.
Temperature
- early to mid 80s is ok.
Others
- I'm assuming there is no issue with water quality, pH, filtration, water changes. these will be no different than what is required for keeping piranhas
So suppose we have the basics covered- a well settled and mature group of healthy piranhas in a proper sized tank with the right conditions.next what?
Colour change-the fish will start to get darker, and most of the red will disappear or diminish.
Conditioning
- different people have different methods, here is what I do. I generally feed my fish twice a week. When I'm planning for a spawn, build up the feeding to 3-4 times a week. Continue for 2 weeks or so, then I stop feeding for 4-5 days. after that I do a very big feeding of whole fish so that all their stomachs bulge.next day or so, I do a big water change and then leave it. Don't feed them for next 1 week. Spawning generally occurs after 2-3rd day of the waterchange.if doesn't, I repeat the cycle from the powerfeeding stage.
(I'll be very interested to know what method other people use)I don't do any dry-wet season simulation.
I know a lot of people do nothing other than just having a group of rbp in their tank and they go about their breeding without any intervention.
Behavior
- aggression level may rise, with territorial fights often breaking out. A male may select a territory and defend it against the other fish in the tank.
Sure signs that the male is interested in breeding , is when he starts to circle a spot, and bites and blows the gravel and tries to prepare a nest. The male getting vertical with tail pointing to the sky and biting the gravel is very suggestive.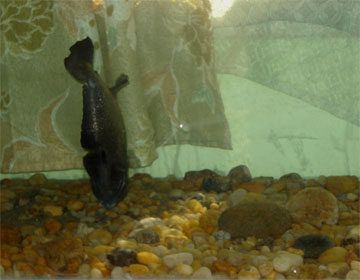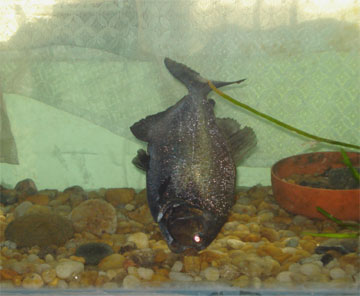 Then if the female is ready, she may visit the spot and spar with the male .together circle the area, tail slapping and cruising around side by side. other fish are chased away aggressively, sometimes the male may chase off the female, but she usually returns.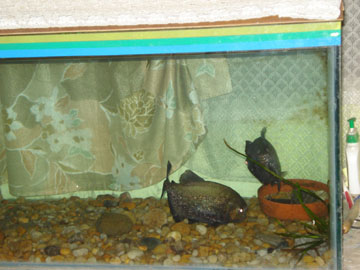 The pair may go through a mock spawning, it looks like they are spawning, but no eggs are deposited.
If everything goes well, and finally the spawn occurs, it may last for hours.i don't know about others, but in my case the time is always early evening and the activity goes on into the late evening with just the ambient room lights.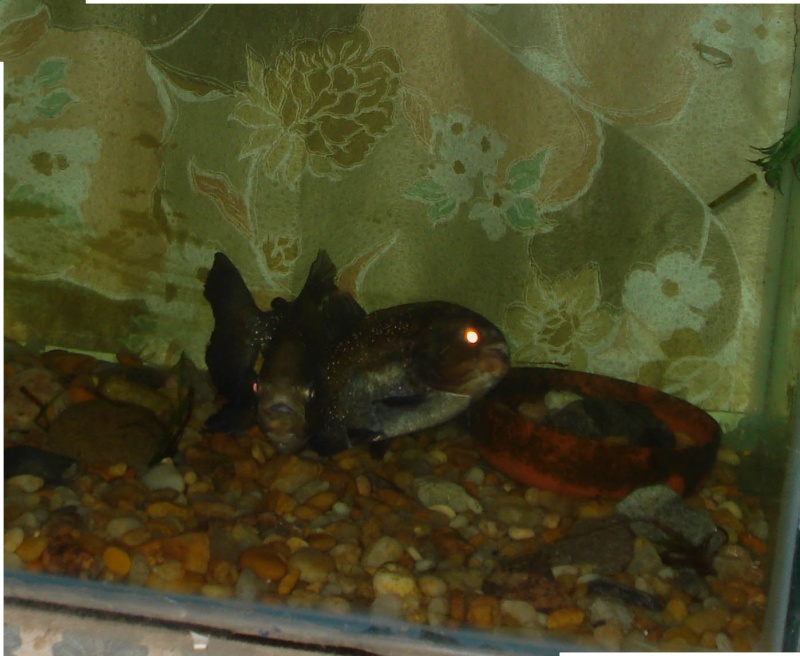 After they are done, the male chases off the female and then defends the site.he goes round and round repeatedly and hovers around the spot. On closer look, many thousands of pinkish brown may be seen on the surface.the eggs are sticky and attach themselves to the gravel/glass.
This guarding goes on for 3-4days, and the development of the fry can be observed.its not much different from other egg laying fish fry development.
When the fry are free swimming,its best to separate them and put them in a separate tank that should be filled with water from the parent's tank and filtered by a sponge filter that has been setup long time back.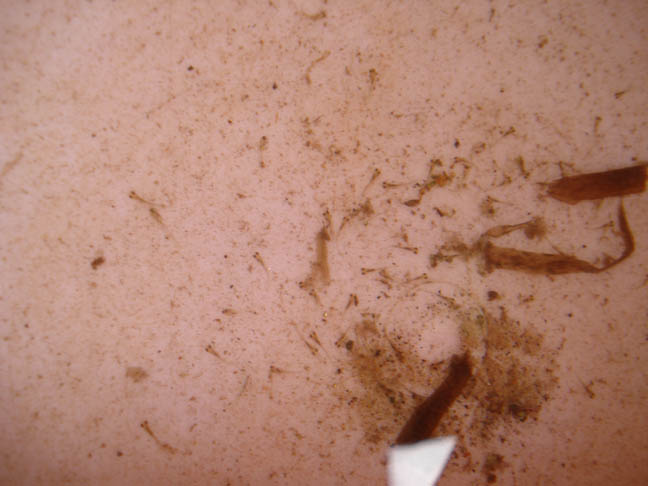 After this its like raising any other baby fish and I don't think there needs to be any elaboration on this. Only, Live food is a must .baby piranhas grow fairly quickly .